A lot of people look at a window and see two separate parts: a pane of glass and a window frame. Of course, there are actually a lot more parts to a window than that. Depending on the size and style of window, there are many different components working together to create a solid, secure window.
When you're looking to replace or upgrade your windows, knowing the technical terms for all these window parts will help you make informed decisions. Knowing your window jamb from your window mullion can help you when it comes to buying, choosing styles and asking the right questions during the installation process.
We've put together this handy introduction to the different parts of a window, so that when things get technical, you'll know exactly what's going on.
What Are the Main Parts of a Window?
Obviously, different styles of windows will have different parts.
A box sash window relies on a complex mechanism to function and it's frame will have extra parts to allow for this. On the other hand, a casement window opens on a straightforward hinge. A construction this simple means less parts involved.
Whatever style of window you have, there are some parts that always feature. The main different parts of window are:
Glass
Frame
Head 
Jamb
Sash
Lintel
Sill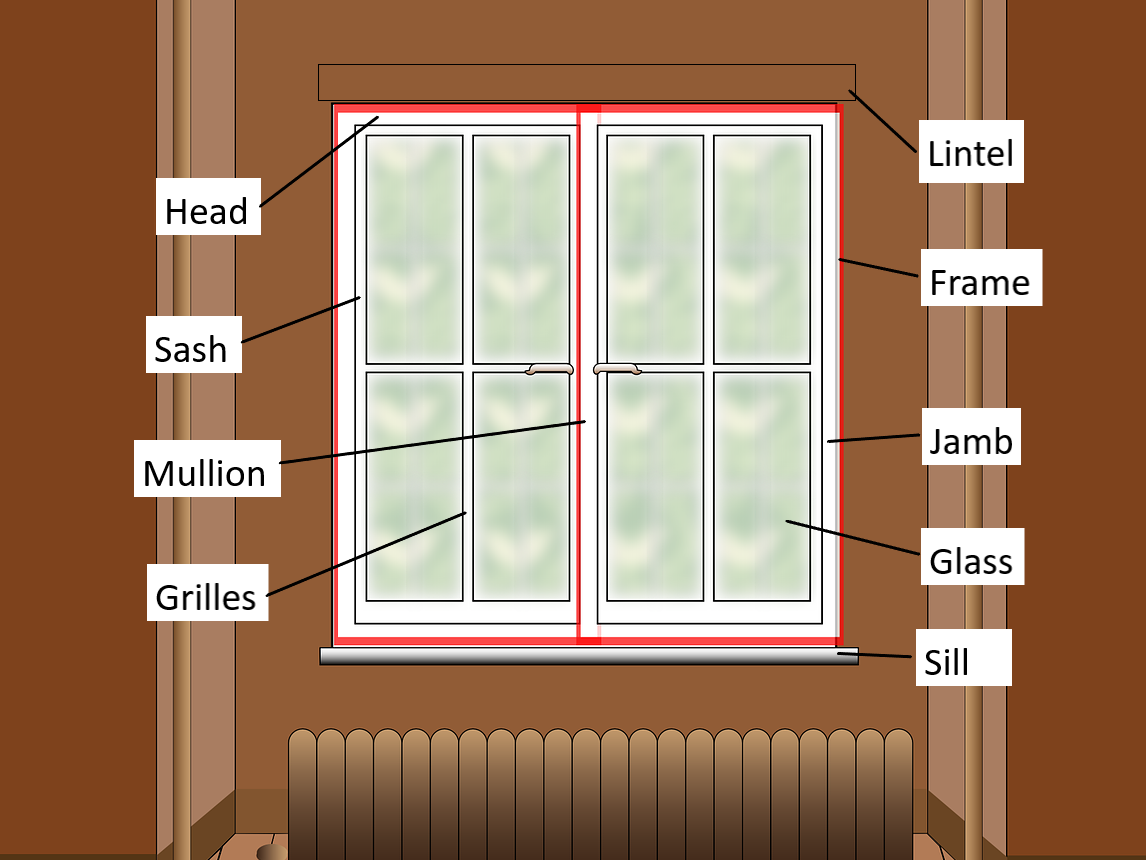 What Is Window Glass?
You can probably identify the glass in your window. Most windows will feature more than one sheet of glass, either side by side or one above, one below, depending on the style of window. These individual pieces are called 'window panes'.
Modern windows will always use strengthened glass so they are harder to break. Usually this is tempered or laminated glass, both of which are safer and more secure than standard glass.
These days, they are almost always double glazed to help them keep the heat from your house inside, and the cold air outside.
What Is a Window Frame?
The window frame is another one of those parts you could probably identify without help. Usually made of uPVC, timber or aluminium, this is the name for the outside framework which holds the window in place.
There are also names for each specific part of a basic window frame:
Window Head: Almost self-explanatory, the head is the main horizontal part of the frame, located at the very top. 
Window Jamb: The technical sounding 'jamb' is actually just the vertical sides that make up the outside window frame.
What Is a Window Sash?
A window sash is the inside 'frame' which holds one pane of glass. Made of the same material as the frame itself, any handles or mechanisms to work the window are usually attached to the sash.

The sash is easily identified on most windows, because it is the bit that actually moves.
In sash windows, the window sash moves vertically to open the window. In casement windows, the window sash may just be referred to as a 'casement window' and it moves outward on hinge to open.
What Is a Window Lintel?
The lintel of a window is a beam that sits horizontally along the top of the window (above the head of the frame).
Commonly made of wood, steel or concrete, the lintel is a key part of the window construction. This is what supports the brickwork above the window and could also be considered part of the building structure rather than the window.
In older houses you can sometimes see the lintel, made of stone or wood. They can be turned into a feature, if they are painted or stained a different colour and look very attractive.
What Is a Window Sill?
The window sill is the part which sits under the window, between the frame and the wall beneath. It's another part that is structurally important, providing support to the window.
On the outside of a building, the sill sticks out slightly, often at angle. As well as giving some definition to the appearance of the window, this lets any rainwater run off. It is important to keep water flowing away from the frame and the seals of the windows to prevent water damage.
Extra Parts of a Window
More decorative or complicated window styles may feature extra parts in the sash or frame as part of their ornate design.
Window Grilles/Window Grids
A window grille (also known as a window grid) is a decorative addition which appears to divide a large window pane into smaller panels.
In the past, this grid construction was necessary to build big windows, as it wasn't possible to create glass that was strong enough to support a larger pane size. They were expensive, so used as a symbol of status in line with fashions of the time.
These days, grilles still feature heavily in period properties. Advances in glass construction means they aren't structurally necessary any more, so they are often just laid over the top of one big pane of glass as a decorative but non-functional addition.
Transoms and Mullions
Transoms and mullions are used for windows which feature more than one pane or sash. They are parts of the window frame which separate the different panes of glass.
What Is a Window Transom?
If a window has two panes of glass arranged vertically, then the horizontal part of the frame that separates them is called a 'transom'. 
What Is a Window Mullion?
If a window has two or more panes arranged horizontally, then the vertical part of the window frame that separates them is called a 'mullion'.
We hope this guide has helped you understand the different parts that make up a window. If you are looking for new windows, we have a great range with many different styles available. From our JELD-WEN brand range to timber and aluminium windows, we have something to suit any property. Just get in touch for more information.