The term 'bay window' has come to refer to any window construction that protrudes from the side of the surrounding building.  They come in many configurations, with the classic 'three-panel' style being the most popular.  Would the design be a good fit for your home?
Bay Window Advantages
They Let Lots of Light into the Home
Bay windows are formed of multiple- usually quite large – panes of glass, and so allow lots of light to enter the building.  Better yet they can do this while taking up minimal wall-space.  Better still, the space in the nook will be lit from every direction, making the entire room will appear brighter.
They Add Space
Since bay windows expand a room slightly, you'll get a little more space to play with.  This could be used for seating, storage, or both – or something else entirely.
They Add Value
Bay windows provide considerable curb appeal.  They're among the first things potential buyers will notice when approaching the house from the front, and they'll make the room into which they're installed appear markedly more spacious.  Consequently, they should help increase the value of your property.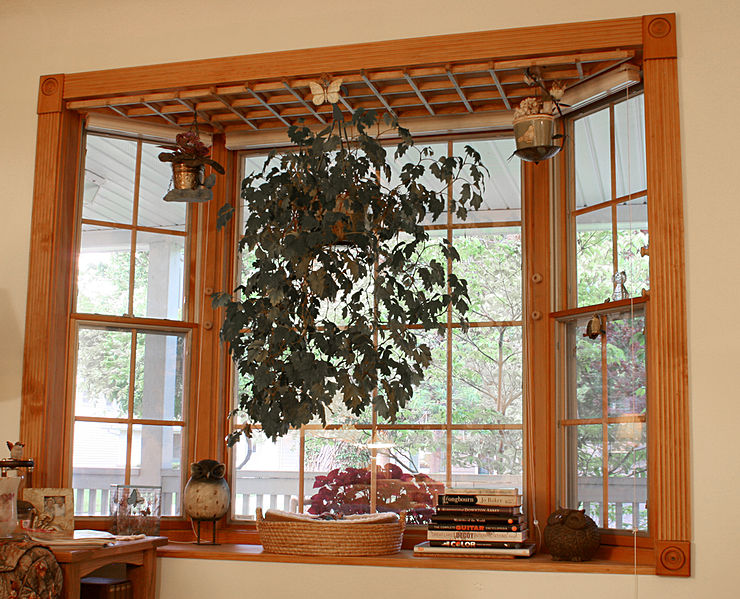 Bay Window Disadvantages
They're Expensive and Potentially Complicated to Install
Bay windows are typically more complex than standard, flat windows.  What's more, if they're not installed correctly, they can develop issues over time, which will need to be corrected by an expert.
So, what does a bay window cost?  The answer will vary according to the type of bay window being installed.  Larger windows will require more panels, which will add to the price.  What's more, fitting costs will depend on how many changes need to be made to the structure of the wall.  Finally, materials come into play: aluminium and wooden windows tend to cost more than uPVC windows.
They Let Lots of Light into the House
I know what you're thinking – we listed this as an advantage of bay windows, and after all, what's not to like about windows that let lots of light into the house?
Well, those extra rays might heat up your home a little too much during summer, particularly if they're south-facing.  They might also cause problems in bedrooms and other areas where total darkness is sometimes required.
Window Treatments Can Be Hard to Find (and Costly)
Like any other sort of window, bay windows look their best when they've been properly treated.  A set of quality curtains or blinds will make all the difference – but your choice will be limited by the shape of the window, and thus finding the right treatment can be difficult, and you might need to dig a little deeper into your pockets when you do!
Considering getting new bay windows for your home? Talk to us about our bespoke range.
Want to know more about bay windows? Read our article 'What's the Difference Between Bay, Bow and Garden Windows?'