Roof window, skylights and light tunnels are all types of windows that are fitted into the roof of a home. They all look great and let plenty of light into the room, but despite serving a similar purpose, they each have some key differences.
Roof Windows
A roof window is a type of window that's fixed into your roof, oddly enough.  It's different from the other varieties featured here in large part because it has the ability to open and close.  Roof windows tend to be designed to allow the occupant of the room to see out in the surrounding area, and they tend to be built into the side of angled roofs.
Skylights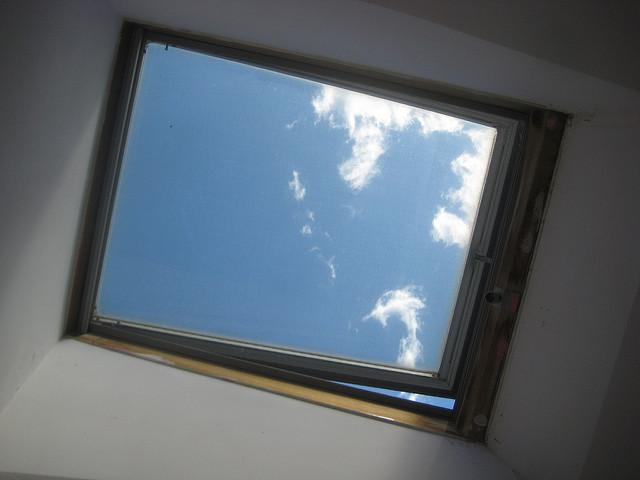 A skylight, by contrast, is a window that's positioned very high up, far out of reach.  They're usually not designed to be opened, and are intended to allow light in rather than provide a view out.  That said, some models can be opened, usually via a remote control device.
Light Tunnels
A light tunnel is something completely different.  It's a long tube, the interior of which is covered in a reflective coating.  This tube leads from the roof of a building down into a hole in the ceiling.  At the top, you'll likely find a transparent dome which is designed to catch as much sunlight as possible and pass it downward.  At the bottom of the tunnel you'll find a frosted plastic or glass disc called a diffuser – which is designed to ensure that the sunlight being ferried down into the room spreads over as large a space as possible.  Light tunnels will have the lowest impact on the exterior of a home – though some examples can work with a traditional window rather than a dome.
Which are best?
If you'd like to introduce a little extra light into your interior space, then any of the devices we've looked at will provide it, but some will make a better fit for your space than others.  If you've converted your loft, and have an angled wall available, fitting it with a large roof window will provide you with a view over the surrounding area.  If you've got a high ceiling which no-one can reach, installing a fixed skylight might be just what's required to brighten the area up.  For areas into which it's difficult to get natural light by any other means, and where privacy might be desired, a light-tunnel might work well – a toilet or bathroom being among the best examples.
Looking for new windows for your home? Browse our sliding sash or casement windows or find out about our handmade bespoke windows.