Double glazing is pretty much a modern essential, and few of us that live in a house which has it could imagine reverting to living in a home with single glazing and the cold, the draughts, and the condensation that comes with it.
Unfortunately for some of us, we don't have a choice. Specifically, those living in conservation areas may find they're unable to upgrade to double glazing, or that they have to fight very hard to be given the green light.
Let's explore why this might be, and what can be done to replace windows while still adhering to the rules of living in a conservation area.
What is a conservation area?
Most areas have very loose planning restrictions and homeowners can, within reason, do pretty much what they like to their properties. The result is that streets lack uniformity and can feel thrown together.
Other areas have very strict planning laws – generally when historic buildings are present, and modern home improvements would have a detrimental effect on the identity of the area, and undermine the value of its properties.
Conservation areas exist to combat this phenomenon.  They limit what can be built in the area and the changes that can be made to existing buildings. This serves to protect the aesthetics of the area and the value of its properties.  What's more, if you buy a house in a street that has a certain look, an area's conservation status offers assurance that the look will remain more-or-less consistent in the future.
Since 1967, more than 9000 conservation areas have been designated across England.  In practice, they allow your local authority greater control over what can be thrown up and knocked down, including things like satellite dishes and trees.
What's the difference between a conservation area and a listed building?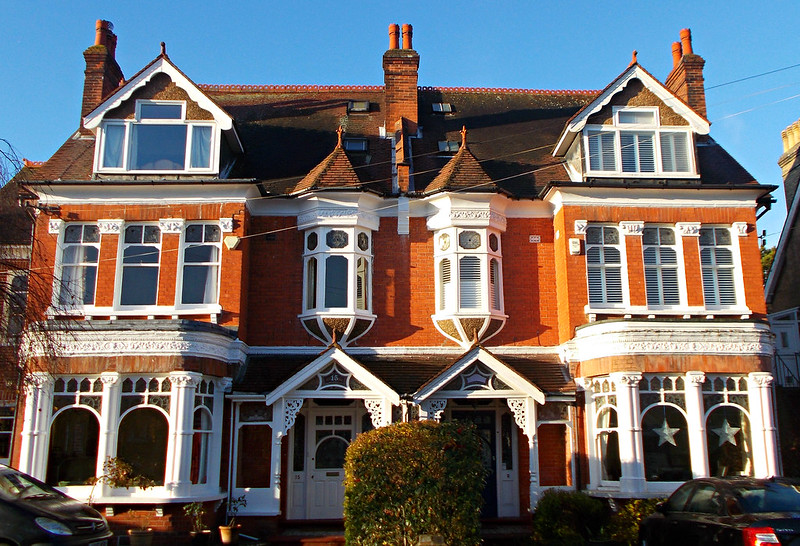 When a home is in a conservation area the only concern is how it appears from the street. This means that brickwork, doors, and windows must be consistent.
If a building's listed, the interior is protected, too. Exactly what this means is unique to each building but as a general rule, the internal structure of the building must not change and repairs and renovations must be carried out using original materials.
If your home isn't listed, but you live in a conservation area, you might need to apply for planning permission before carrying out improvements that affect the external appearance of your property, such as replacing your windows.  This will be the case if the property is subject to something called an article 4 direction – a special power that gives your local planning authority (and in some cases, the government) the ability to withdraw some of your permitted development rights.
I live in a conservation area: should I repair or replace my windows?
If you're jumping through hoops to secure planning permission for the windows you want, you might be tempted to save yourself the hassle and just repair them, instead.
Unfortunately, you'll still need to follow the rules – if repairing your windows involves replacing the glass itself, you probably won't be able to get away with changing the sort of glass you use, for example.
In either case, the name of the game should be to replicate your current window as closely as possible.  This might mean that you end up paying slightly over the odds – but the investment will prove worthwhile in the long run.  For one thing, you'll not be forced to tear the window out and start afresh; for another, you'll be preserving the value of the entire street.
What about double glazing in conservation areas?
Double glazing works by sandwiching a layer of inert gas between two panes of glass.  This severely restricts the flow of heat from one side to the other, increasing the energy efficiency of any given property.
But double glazed windows look different to windows with a single pane of glass.  For one thing, they require a chunkier frame.  For another, the glass tends to bend and bow as the atmospheric pressure changes relative to the gas inside the window.  From the street, this creates a warping effect that would look out of place in a period property.
With all that said, there isn't anything inherently wrong with installing double glazed windows into a conservation area – provided that the local conservation committee don't judge your new window to be a considerable departure from the old one.  If you're replacing a single glazed window with a double glazed one, you might find that this necessitates a slightly chunkier frame, and glazing bars that sit atop the surface of a larger pane rather than dividing the window into smaller ones.
What's next?
Planning restrictions can seem a little, well, restrictive.  Especially when you're the one needing to wriggle free of them.  In the case of conservation areas, your local officials will have the final word over what's allowed and what isn't – this can mean it's worth meeting with your conservation officer before you make your application, to talk through the options.  Getting on good terms with them, and supplying them with a detailed plan of your intentions, will vastly increase your chances of being given the go-ahead.
Here at Windows & More, we offer a range of high quality timber windows which are sympathetic to the original style of windows in period properties. Our conservation windows include flush casement windows and sash windows – take a look or get in touch to find out more.