Box Sash or Spiral Balance Windows: Which Should I Choose?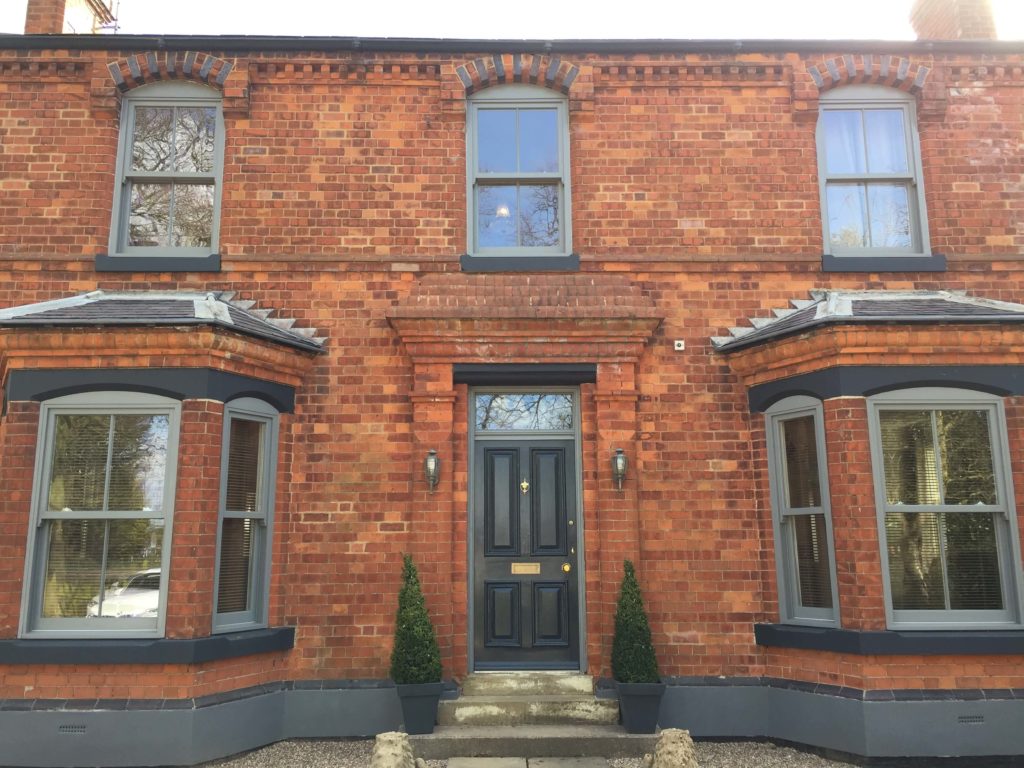 If you're wondering what the difference is between box sash windows vs spiral balance windows, there are a few elements to consider.
Box sash windows, sometimes known as 'cords and weights' sash windows, are the traditional form of timber sash windows. They were commonly used on historic properties and are still in use today.
Spiral balance windows, sometimes referred to as 'spring sash windows' are the modern equivalent of the cords and weights system and can be used as an alternative to box sash windows.
Both these timber windows are types of sash windows – they open by sliding one pane behind the other to open; they don't have a hinge and don't open outwards. Sash windows will complement Georgian, Victorian or Edwardian homes, as well as modern properties and new builds. They can be made in bespoke sizes and built in a variety of timbers, frame thicknesses, sill sizes and bar designs.
Both box sash and spiral balance windows have the same elegant and stylish look, which offers a more unique option to uPVC windows. Whichever style of sash window you choose, they can be a great investment for your home.
What are box sash windows?
Box sash windows are traditional timber windows which have been used for hundreds of years on properties in the UK. The window frame which is built into the window opening houses steel weights (historically made from cast iron or lead) and sash cords, which run up and down over a pulley at the top of the frame.
The metal weights counterbalance the weight of the sash window, allowing an effortless sliding motion which opens and closes the window by simply pushing the sash up or down. The name comes from the 'box' frame which houses the mechanism – the box also protects the pulleys and helps them last longer.
This traditional window is still used today, with the addition of new technology to improve the thermal effectiveness and reduce exterior noise. They can also be fitted with modern double or triple glazed glass.
Box sash windows are typically chosen for historic or listed properties because this traditional style would have been what was originally used. Using an authentic product on period homes will make sure that the window's aesthetic complements the style of the property, and meets any building regulations.
Advantages of box sash windows:
What are spiral balance windows?
The use of cords and weights with box sash windows has been updated with the spiral balance window system. These windows function using the same process of counterbalancing but instead of sash cords and weights, they use two springs inside a PVC tube.
This is a more modern internal mechanism but it still offers the same traditional sash window aesthetic from the outside. This system also allows a slimmer frame than the box sash window, so it allows more light in and is less visible.
Spiral balance windows are now typically used on new build properties or modern homes which seek a classic sash window look.
Advantages of spiral balance windows:
Should I choose box sash or spiral balance windows?
When choosing between box sash windows or spiral balance windows, generally there is no right or wrong answer. You can choose whichever style you feel would fit your property best, knowing that both offer a long lasting window which will help your home retain its character and style. The only exception is if your home is in a conservation area or is listed. If so, you will likely have to choose a box sash window so as to preserve the original features and style of your property.
With both box sash and spiral balance windows you can choose from a range of timber frames and glazing styles, with or without bars. Whether you opt for the authentic box sash design or the more modern equivalent of spiral balance windows, the overall effect will look classic, timeless and stylish.
Have a browse of our box sash and spiral balance windows to see the range for yourself. If you have any questions about our windows or would like to make an enquiry, simply get in touch with our helpful team today.
Sash Windows:
Opening Hours:
Monday – Friday: 8:30–5pm
Saturday & Sunday: Closed
CALL US TODAY ON:
01205 363 999
EMAIL US:
Free Delivery to all UK Mainland Orders!
With our expert advice, we can help you find the best style for your property all whilst you benefit from modern high performance and security advancements. Enquire about your bespoke windows today!